How to teach using comics
By
24 August 2013 (Sat)
9.30am – 5.30pm
Course Fee: $120.00
Comics are good at grabbing attention from younger learners, and some teachers are interested in comics as part of their classroom teaching. After all, a poorly-drawn Hello Kitty may be more appealing than a photo of famous real people! However, drawing comics and developing an idea from words to images require some skills. Even if a person can draw, there are knowledge about sequential art aka comics that are indispensable. After learning about the various styles of comic art, participants can choose to create different kinds of illustrated pages (with or without words), tailor lesson plans that make use of drawings, diagrams and words, in their own chosen subjects (be it mathematics, science, history, language or literature).
About the Trainer:

Otto Fong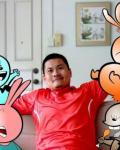 Otto Fong has 8 years of experience teaching science, and publishes a popular sci-fi comic series called Sir Fong's Adventures, which spins fresh and humorous stories from the local science syllabus. In the last 5 years, Otto has spoken to tens of thousands of students from primary and secondary schools all over Singapore, sharing the possibilities of bringing science education in Asia to the next level. Sir Fong Book 1 has recently been developed into an iPad App, with the complete book on Atoms and Elements, and science games that brings the excitement of interactivity to science concepts.
Registration Details
Registration is on a first-come-first-served basis and workshop fees must be paid before the workshop. If the minimum number of participants is not met for the class, the organisers will inform all participants about possible postponement and cancellation, two weeks before the workshop date.
Cancellation & Substitution
The workshop can be cancelled or postponed two weeks before the workshop date if the minimum number of participants is not met. Participants will be fully refunded for workshops cancelled by us.
Participants who are unable to attend a workshop they have registered for are to inform us of the reason two weeks before the workshop date. They will be fully refunded in the event of extenuating and mitigating circumstances (E.g. illness, bereavement, accidents) . Those who inform us up to five (5) working days before the workshop date will receive a 50% refund. Participants can also attend another course at the same value within the same year.
Upon registration, you are deemed to have read and understood the cancellation, withdrawal and substitution policy and accept the terms contained therein.