Learning to write memoir poetry (for primary school teachers and parents)
By
7 February 2015 (Sat)
9.00am to 1.30pm
Course Fee: $70.00
Eventbrite Registration Fee: $3.00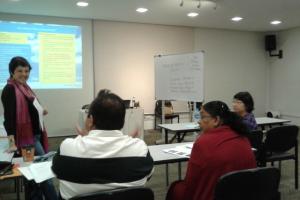 View Gallery
Synopsis
Memoir Poetry can be a powerful tool of self-expression for children. Memoir poetry does not demand paying allegiance to a particular poetic style or school of thought. The inherent flexibility of the genre allows a child to explore his imagination with few restraints and instils in him a confidence and a new motive for writing. The workshop would aim to equip adults who work with children with the necessary tools for appreciating and writing memoir poetry. Going beyond that it would provide a window to the beauty of poetic thought and poetic expression which is necessarily concise, distilled and carefully constructed.

Aims
A basic understanding of the figures of speech which are 'child friendly' and help to enrich the writing of young poets.
Meter and rhyme – their importance at this stage
Understanding memoir poetry as a genre, distinguishing the classic from the contemporary
An introduction to a selected batch of memoir poetry from across the world (including post-colonial Asian literature)
A practical session of writing memoir poetry
Critique and reflection on the experience
About the Trainer:
Registration Details
Minimum – Maximum Number of Participants: 10 – 25 pax
Registration is on a first-come-first-served basis and workshop fees must be paid before the workshop. If the minimum number of participants is not met for the class, the organisers will inform all participants about possible postponement and cancellation, two weeks before the workshop date.
Cancellation & Substitution
The workshop can be cancelled or postponed two weeks before the workshop date if the minimum number of participants is not met. Participants will be fully refunded for workshops cancelled by us.
Participants who are unable to attend a workshop they have registered for are to inform us of the reason two weeks before the workshop date. They will be fully refunded in the event of extenuating and mitigating circumstances (E.g. illness, bereavement, accidents) . Those who inform us up to five (5) working days before the workshop date will receive a 50% refund. Participants can also attend another course at the same value within the same year.
Upon registration, you are deemed to have read and understood the cancellation, withdrawal and substitution policy and accept the terms contained therein.