Alohomora! Create Your Own Fairy Tale
By Yolanda Yu
19 January 2019 (Sat)
9:30am – 12:30pm
Singapore Book Council Training Room
Singapore Book Council Training Room
90 Goodman Road, Blk E #03-32
Goodman Arts Centre
Singapore 439053
MAP
Course Fee: $70.00
Eventbrite Registration Fee: $3.74
What if you can get the magical power to turn anything in life into fairy tales?
Yolanda's "A Giant's three wishes" was featured at Singapore Writers' Festival 2015. The story examines an office worker's life in the city of Singapore, through magical and satirical lenses of fairy tale, deconstructing the seriousness of adulthood in the urban ecosystem and inviting reader into a fantastical story of pursuit of wealth and lose of identity.
Through sharing her experience writing fairy tales and other shortstories and introducing snippets from various classical pieces and modern works, Yolanda will take a methodological step-by-step approach, to help you unleash your creative power, and construct a fantastical world with your own pen. You will learn to convert ordinary settings into a fairyland, utilize one of the common plot structures, design characters of different types, and have a big repository of motif and magics at your disposal. Drawing on the same principles we can write fairy tale for children, young adults, adults… simply what you make it to be.
The class will be filled with fun, magic, and a lot of writing. What are you waiting for? Alohomora! We shall open the lock that has been guarding your creativity.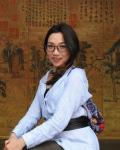 Yolanda Yu Miaomiao was born in north eastern China and has been living in Singapore since 1998. She has received multiple literature awards, including Singapore Tertiary Chinese Literature Award, Golden Point Award 2017 (1st place, Chinese Short Stories), and Golden Point Award 2015 (1st Runner Up, Chinese Poetry).
Yolanda published collection of short stories, "Neighbour's Luck" in November 2018. Her collection of poems was exhibited in multiple joint photography exhibitions with Shivaji Das, her husband. She also co-edited a documentary book on Chinese students in Singapore, published by Candid Publishing. Her fairy tale "A Giant's Administration from INSEAD. In her professional work, she was holding director role in Mastercard and VP roles in Lazada / Alibaba. She is currently working as a freelance consultant on projects in market-entry strategy, coaching, and delivers workshop on Financial Technology and eCommerce.three wishes" has been featured in Singapore Writers' Festival 2015. Her poems, travel log and short stories are collected in anthologies "From Walden to Woodlands", "Call and Response", magazine & newspapers such as LianHeZaoBao and Bukit Timah Literature magazine in Singapore, New York Times Travel Magazine, Zuopin Magazine and Guangxi Literature Magazine in China.
Yolanda holds a Bachelor degree from National University of Singapore and Master of Business
Registration Details
Kinokuniya Privilege Card Members
Kinokuniya Privilege card members can enjoy 10% off the workshop fee.
Please provide your membership number and workshop title to [email protected] for the discount code before online registration.
Registration is on a first-come-first-served basis and workshop fees must be paid before the workshop. If the minimum number of participants is not met for the class, the organisers will inform all participants about possible postponement and cancellation, two weeks before the workshop date.
Cancellation & Substitution
The workshop can be cancelled or postponed two weeks before the workshop date if the minimum number of participants is not met. Participants will be fully refunded for workshops cancelled by us.
Participants who are unable to attend a workshop they have registered for are to inform us of the reason two weeks before the workshop date. They will be fully refunded in the event of extenuating and mitigating circumstances (E.g. illness, bereavement, accidents) . Those who inform us up to five (5) working days before the workshop date will receive a 50% refund. Participants can also attend another course at the same value within the same year.
Upon registration, you are deemed to have read and understood the cancellation, withdrawal and substitution policy and accept the terms contained therein.