Triumphant: Developing a Short Memoir about Overcoming the Odds
By Verena Tay
10 – 31 July 2021 (Sat – Sat)
9:30am – 12:30pm
Singapore Book Council Training Room
90 Goodman Road, Blk E #03-32
Goodman Arts Centre
Singapore 439053
MAP
Course Fee: $350.00
Eventbrite Registration Fee: $10.42
In the course of your life, you have encountered various difficulties and found ways to survive. Are you inspired to write a short memoir about one such episode so as to honour the occasion and for others to read and treasure?
If you are uncertain on how to structure and write down your reflections in a manner that will engage your readers, then Triumphant is just the workshop for you.
In four sessions, experienced writer, editor and storyteller Verena Tay will guide you on how to:
Brainstorm the content and arc of a memoir (maximum: 3000 words);
Craft character, setting, scenes, dialogue, theme, flow and pace.
The course includes editorial feedback on work by the participants over the course of the workshops.
Join Triumphant and you will definitely be inspired to start and complete writing about one aspect of your life story.
This session comprises of 4 sessions:
Session 1: 10 July 2021 (Saturday), 9.30am - 12.30pm
Session 2: 17 July 2021 (Saturday), 9.30am - 12.30pm
Session 3: 24 July 2021 (Saturday), 9.30am - 12.30pm
Session 4: 31 July 2021 (Saturday), 9.30am - 12.30pm
These workshops will be conducted in person at the Singapore Book Council at Goodman Arts Centre.
This programme is eligible for SkillsFuture Credit. You can access the link here.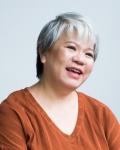 A writer, editor, storyteller, and theatre practitioner, Verena Tay (www.verenatay.com) has published two collections of short stories (Spaces, 2016; Spectre, 2012) and four volumes of plays. She has also edited twelve story anthologies, including the bestselling Balik Kampung series published by Math Paper Press. She has conducted numerous creative writing workshops for National Library Board, The Arts House, Creative Arts Programme (Ministry of Education), and other institutions. Currently, she is writing her first novel as part of her PhD studies in Creative Writing with Swansea University.
Registration Details
Minimum – Maximum Number of Participants: 4 – 10 pax
Registration is on a first-come-first-served basis and workshop fees must be paid before the workshop. If the minimum number of participants is not met for the class, the organisers will inform all participants about possible postponement and cancellation, two weeks before the workshop date.
Cancellation & Substitution
The workshop can be cancelled or postponed two weeks before the workshop date if the minimum number of participants is not met. Participants will be fully refunded for workshops cancelled by us.
Participants who are unable to attend a workshop they have registered for are to inform us of the reason two weeks before the workshop date. They will be fully refunded in the event of extenuating and mitigating circumstances (E.g. illness, bereavement, accidents) . Those who inform us up to five (5) working days before the workshop date will receive a 50% refund. Participants can also attend another course at the same value within the same year.
Upon registration, you are deemed to have read and understood the cancellation, withdrawal and substitution policy and accept the terms contained therein.