Conversation with a Literary Agent
By Jayapriya Vasudevan
9 January 2020 (Thu)
7:00pm – 9:00pm
Singapore Book Council Training Room
90 Goodman Road, Blk E #03-32
Goodman Arts Centre
Singapore 439053
MAP
Course Fee: $10.00
Eventbrite Registration Fee: $11.44
Conducted by Jayapriya Vasudevan from Jacaranda Literary Academy, this talk will introduce aspiring authors, especially first time authors, to the publishing industry. It will help to guide them through the complex maze that leads their manuscript from their desk to that of an agent and eventually a publisher.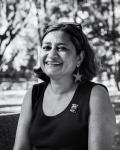 Jayapriya Vasudevan founded the Jacaranda Literary Agency over 20 years ago. The prestigious UK magazine, Bookseller has hailed her as "one of India's most dynamic booksellers."
Over the years the agency has grown exponentially and now represents an exciting and diverse list of authors from India, Singapore and across South East Asia as well as from the UK, Australia and Kenya. Jayapriya is a preferred speaker and regular delegate at literary conferences all over Asia as well as London and Frankfurt. She also teaches a class at Bangalore's World Famous Semi Deluxe Writing Program.
Jayapriya was the Festival Director for the Times of India Literary Festivals 2017 and 2018 held in Bangalore.
Registration Details
Registration is on a first-come-first-served basis and workshop fees must be paid before the workshop. If the minimum number of participants is not met for the class, the organisers will inform all participants about possible postponement and cancellation, two weeks before the workshop date.
Cancellation & Substitution
The workshop can be cancelled or postponed two weeks before the workshop date if the minimum number of participants is not met. Participants will be fully refunded for workshops cancelled by us.
Participants who are unable to attend a workshop they have registered for are to inform us of the reason two weeks before the workshop date. They will be fully refunded in the event of extenuating and mitigating circumstances (E.g. illness, bereavement, accidents) . Those who inform us up to five (5) working days before the workshop date will receive a 50% refund. Participants can also attend another course at the same value within the same year.
Upon registration, you are deemed to have read and understood the cancellation, withdrawal and substitution policy and accept the terms contained therein.