Dialogic Reading
By Dr George Jacobs
27 February 2016 (Sat)
10.00am - 1.00pm
Course Fee: $45.00
Eventbrite Registration Fee: $2.38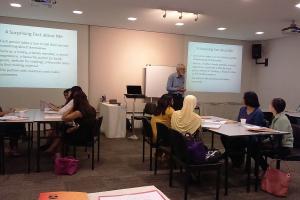 View Gallery
SYNOPSIS
Dialogic reading is more than reading aloud by adults to children. It highlights and emphasises the discussion that takes place between children and adults, as well as among children during reading. Indeed, dialogic reading is not about starting on Page 1 of a book and reading, reading, reading until "The End". In dialogic reading, the book itself is merely a tool; it is merely a conversation starter for the adult and the children. This three hour workshop provides ideas as to how to promote dialogue through the use of appropriate prompting questions, and participants, working in small groups, practicing reading aloud and sparking dialog.
AIMS
• Discover the many benefits of children learning to dialog
• Find ways of promoting dialog with and among children
• Practice using these dialog creating methods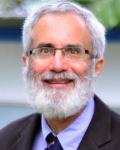 Dr George Jacobs has taught collaborative learning to a wide variety of teachers in Singapore, from teachers of lower primary students to teachers of adults. Furthermore, he has written many articles and books on collaborative learning, reading and related topics. George serves on the boards of the International Association for the Study of Cooperation in Education and the Extensive Reading Foundation. Currently, he teaches at James Cook University, as well as helping the Book Council.
Registration Details
Kinokuniya Privilege Card Members
Kinokuniya Privilege card members can enjoy 10% off the workshop fee.
Please provide your membership number and workshop title to [email protected] for the discount code before online registration.
Minimum – Maximum Number of Participants: 15 – 25 pax
Registration is on a first-come-first-served basis and workshop fees must be paid before the workshop. If the minimum number of participants is not met for the class, the organisers will inform all participants about possible postponement and cancellation, two weeks before the workshop date.
Cancellation & Substitution
The workshop can be cancelled or postponed two weeks before the workshop date if the minimum number of participants is not met. Participants will be fully refunded for workshops cancelled by us.
Participants who are unable to attend a workshop they have registered for are to inform us of the reason two weeks before the workshop date. They will be fully refunded in the event of extenuating and mitigating circumstances (E.g. illness, bereavement, accidents) . Those who inform us up to five (5) working days before the workshop date will receive a 50% refund. Participants can also attend another course at the same value within the same year.
Upon registration, you are deemed to have read and understood the cancellation, withdrawal and substitution policy and accept the terms contained therein.