Jom Bercerita!
By Jumaini Ariff
6 March 2021 (Sat)
9:30am – 12:30pm
Singapore Book Council Training Room
90 Goodman Road, Blk E #03-32
Goodman Arts Centre
Singapore 439053
MAP
Course Fee: $60.00
Eventbrite Registration Fee: $2.49
Ingin bercerita dalam Bahasa Melayu tapi tidak tahu bagaimana untuk mula? Mari ikuti bengkel pengenalan oleh Jumaini Ariff @ Nek Selampit; pencerita profesional Singapura dan mulakan pengembaraan anda sebagai seorang pencerita.
Dalam bengkel ini, para peserta akan diperkenalkan kepada teknik-teknik penceritaan, cara-cara untuk menghayati jalan cerita serta watak dan pendekatan untuk membuat penceritaan menarik perhatian. Para peserta juga akan dibimbing untuk menyampaikan sebuah cerita rakyat yang ringkas pilihan sendiri dan dapat menggunakan prop dalam sesi bercerita masing-masing. Bengkel pengenalan ini sesuai untuk peserta yang ingin berjinak-jinak dalam bidang perceritaan.
Bengkel ini akan dikendalikan dalam Bahasa Melayu dan akan diadakan di Majlis Buku Singapura.
If you would like to tell a story in Malay for an engaged audience and keep them coming back for more, join Jumaini Ariff @ Nek Selampit the Folktale Storyteller in this introductory workshop and kick off your adventure as a storyteller!
In this workshop, participants will be introduced to the storytelling techniques, ways to appreciate the story and the character, and approach to making storytelling interesting. Participants will be guided to tell a brief local story and have a chance to use a prop during their storytelling. This introductory workshop is suitable for participants who want to familiarise themselves with storytelling.
This is an in-person workshop conducted in Malay and will be held in SBC Training Room.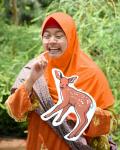 Jumaini Ariff ialah seorang pencerita profesional di bawah naungan Persatuan Penceritaan Singapura dan juga penulis buku cerita kanak-kanak seperti Siri Ariff Ingin Tahu dan lain-lain lagi. Beliau dikenali menerusi watak unik, Nek Selampit dan kerap terlibat dalam kempen-kempen bahasa dan budaya di peringkat nasional serta festival-festival penceritaan tempatan. Nek Selampit juga telah mewakili Singapure di arena penceritaan antarabangsa.
Nek Selampit seorang pencerita yang bertenaga dan sentiasa mencuit hati penonton dari segenap lapisan umur melalui cerita-cerita rakyat Asia, hikayat dan legenda dalam Bahasa Melayu.
Jumaini Ariff is an author and professional storyteller with Storytelling Association (Singapore). She has written several Malay children's picture books including the Ariff Discovers Series and Tiga, Dua, Satu... Zoom!
She is known for her unique persona, 'Nek Selampit' and has participated in numerous national events such as the Mother Tongue Languages Symposium and Bulan Bahasa as well as local and international storytelling festivals. 'Nek Selampit' is highly energetic and is able to enthrall audiences both young and old with her performances. She champions Asian folktales, fables and legends in the Malay language.
Registration Details
Registration is on a first-come-first-served basis and workshop fees must be paid before the workshop. If the minimum number of participants is not met for the class, the organisers will inform all participants about possible postponement and cancellation, two weeks before the workshop date.
Cancellation & Substitution
The workshop can be cancelled or postponed two weeks before the workshop date if the minimum number of participants is not met. Participants will be fully refunded for workshops cancelled by us.
Participants who are unable to attend a workshop they have registered for are to inform us of the reason two weeks before the workshop date. They will be fully refunded in the event of extenuating and mitigating circumstances (E.g. illness, bereavement, accidents) . Those who inform us up to five (5) working days before the workshop date will receive a 50% refund. Participants can also attend another course at the same value within the same year.
Upon registration, you are deemed to have read and understood the cancellation, withdrawal and substitution policy and accept the terms contained therein.