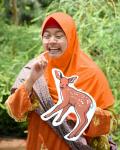 Jumaini Ariff
Jumaini Ariff ialah seorang pencerita profesional di bawah naungan Persatuan Penceritaan Singapura dan juga penulis buku cerita kanak-kanak seperti Siri Ariff Ingin Tahu dan lain-lain lagi. Beliau dikenali menerusi watak unik, Nek Selampit dan kerap terlibat dalam kempen-kempen bahasa dan budaya di peringkat nasional serta festival-festival penceritaan tempatan. Nek Selampit juga telah mewakili Singapure di arena penceritaan antarabangsa.
Nek Selampit seorang pencerita yang bertenaga dan sentiasa mencuit hati penonton dari segenap lapisan umur melalui cerita-cerita rakyat Asia, hikayat dan legenda dalam Bahasa Melayu.
Jumaini Ariff is an author and professional storyteller with Storytelling Association (Singapore). She has written several Malay children's picture books including the Ariff Discovers Series and Tiga, Dua, Satu... Zoom!
She is known for her unique persona, 'Nek Selampit' and has participated in numerous national events such as the Mother Tongue Languages Symposium and Bulan Bahasa as well as local and international storytelling festivals. 'Nek Selampit' is highly energetic and is able to enthrall audiences both young and old with her performances. She champions Asian folktales, fables and legends in the Malay language.
Courses conducted: