Picture Book Matters
By Debasmita Dasgupta, Eva Wong Nava
10 – 18 April 2021 (Sat – Sun)
9:30am – 12:30pm
Online

Course Fee: $300.00
Eventbrite Registration Fee: $8.49
Through a series of online workshops, participants will learn step-by-step how picture books of all genres, including graphic novels as well as silent picture books, are created for the traditional publishing market.
In conjunction with the Singapore Book Council, Picture Book Matters (PBM) is offering a series of workshops leading up to the Asian Festival of Children's Content (AFCC) in October 2020. Participants will enjoy a 30% discount off AFCC tickets and get the chance to meet and network with their peers and publishers.
With each workshop, participants will get one step closer to the publishing of their picture book ideas. PBM mentors, author Eva Wong Nava and artist, Debasmita Dasgupta, will prepare participants to ideate, refine and present pitch-ready materials during the AFCC.
The mentors will share industry tips and knowledge, from both the writer's and illustrator's perspectives, through interactive exercises and face-to-face real-time conversations, making each picture book creator's story unique and submission ready.
Participants will learn ways on how to generate and refine an idea, write a strong synopsis that will help build their story arc, know their characters better, do visual research, character sketching, storyboarding, inking and final colouring.
This workshop comprises of 3 sessions over two weeks:
Session 1: 10 April 2021 (Saturday), 9.30am - 12.30pm
Session 2: 11 April 2021 (Sunday), 9.30am - 12.30pm
Session 3: 18 April 2021 (Sunday), 9.30am - 12.30pm
We offer a "bonus critique" session for each participant having a 1:1 critique separately with Eva Wong and Debasmita. This session could happen on 11 or 18 April 2021.
This workshop is eligible for SkillsFuture Credit.
Debasmita Dasgupta is an award-winning Singapore-based, internationally published, Kirkus Best Prize nominated illustrator & graphic novelist. With over a decade-long career in the field of publishing, she has illustrated over 20 picture books, comics & poems working with publishers in the United States, the United Kingdom, India and Singapore including HarperCollins London, Scholastic India and Mango & Marigold Press USA. Widely known as an art-for-change advocate, she tells stories of changemakers from around the world partnering with global non-profits.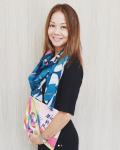 Eva Wong Nava is an award-winning children's book author who lives between two worlds. She reads copiously and writes voraciously. Eva holds degrees in English Literature and Art History. She has taught children and adults how they can use writing for communication and play. Eva is currently reading a Masters in Children's Literature towards a PhD focusing on memory in childhood reading. She has been a speaker at the Asian Festival of Children's Content on writing about diversity and representing marginalised voices. Eva has forthcoming picturebooks with Penguin Random House SEA. She lives in London with her family, two scampering squirrels, and a regal fox.
Registration Details
SkillsFuture
Some workshops are eligible for the SkillsFuture Credit.

All Singaporeans aged 25 and above can use their SkillsFuture Credit from the government to pay for a wide range of approved skills-related courses. Visit the SkillsFuture Credit website www.skillsfuture.sg/credit to choose from the courses available on the the SkillsFuture Credit course directory.
Participants can disburse partial or full course fees (excludes registration fees) in SkillsFuture Credits.
For claiming the full course fee (exclude ticketing fee) in SkillsFuture Credit, please register for the course in Eventbrite and select 'Send Invoice' at the end of the online registration page. You are required email a screenshot of the approved claim to SBC before the start of the course and to make cash payment of the Eventbrite registration fee at the workshop.

If you use partial SkillsFuture Credit to pay for the course fee, please sign in to your SkillsFuture account and after which email to [email protected] a screenshort of the approved claim and arrange for payment for the remaining course fee (including Eventbrite fee).
Minimum – Maximum Number of Participants: 4 – 8 pax
Registration is on a first-come-first-served basis and workshop fees must be paid before the workshop. If the minimum number of participants is not met for the class, the organisers will inform all participants about possible postponement and cancellation, two weeks before the workshop date.
Cancellation & Substitution
The workshop can be cancelled or postponed two weeks before the workshop date if the minimum number of participants is not met. Participants will be fully refunded for workshops cancelled by us.
Participants who are unable to attend a workshop they have registered for are to inform us of the reason two weeks before the workshop date. They will be fully refunded in the event of extenuating and mitigating circumstances (E.g. illness, bereavement, accidents) . Those who inform us up to five (5) working days before the workshop date will receive a 50% refund. Participants can also attend another course at the same value within the same year.
Upon registration, you are deemed to have read and understood the cancellation, withdrawal and substitution policy and accept the terms contained therein.