Reveal: The Art of Showing
By Verena Tay
27 March 2021 (Sat)
9:30am – 12:30pm
Singapore Book Council Training Room
90 Goodman Road, Blk E #03-32
Goodman Arts Centre
Singapore 439053
MAP
Course Fee: $60.00
Eventbrite Registration Fee: $2.49
What does the adage 'Show, don't tell' really mean? What is its relevance? How do you actually apply it?
This hands-on workshop will lead you to some answers. First, you will examine some textual examples of 'show' and 'tell' and discuss the significance of each term and when to apply either principle aptly. Next through various exercises, you will experiment with different elements (e.g. word choice, concrete sensorial description, point of view, dialogue) to understand what is 'telling' and how to 'show'.
By the end of the workshop, you will gain a firmer grasp of what is 'show' and 'tell', thereby enabling you to know better how and when to 'show' and/or 'tell when writing stories.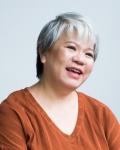 A writer, editor, storyteller, and theatre practitioner, Verena Tay (www.verenatay.com) has published two collections of short stories (Spaces, 2016; Spectre, 2012) and four volumes of plays. She has also edited twelve story anthologies, including the bestselling Balik Kampung series published by Math Paper Press. She has conducted numerous creative writing workshops for National Library Board, The Arts House, Creative Arts Programme (Ministry of Education), and other institutions. Currently, she is writing her first novel as part of her PhD studies in Creative Writing with Swansea University.
Registration Details
Registration is on a first-come-first-served basis and workshop fees must be paid before the workshop. If the minimum number of participants is not met for the class, the organisers will inform all participants about possible postponement and cancellation, two weeks before the workshop date.
Cancellation & Substitution
The workshop can be cancelled or postponed two weeks before the workshop date if the minimum number of participants is not met. Participants will be fully refunded for workshops cancelled by us.
Participants who are unable to attend a workshop they have registered for are to inform us of the reason two weeks before the workshop date. They will be fully refunded in the event of extenuating and mitigating circumstances (E.g. illness, bereavement, accidents) . Those who inform us up to five (5) working days before the workshop date will receive a 50% refund. Participants can also attend another course at the same value within the same year.
Upon registration, you are deemed to have read and understood the cancellation, withdrawal and substitution policy and accept the terms contained therein.