Safe Space Stories
By Paul Rozario-Falcone
7 – 28 July 2019 (Sun – Sun)
2:00pm – 5:00pm
Singapore Book Council Training Room
Singapore Book Council Training Room
90 Goodman Road, Blk E #03-32
Goodman Arts Centre
Singapore 439053
MAP
Course Fee: $280.00
Eventbrite Registration Fee: $7.99
Come write in an affirming group that encourages creativity and listening. Using the Amherst Writers & Artists method, Brooklyn-and-Singapore-based writer, Paul Rozario-Falcone takes you through this supportive process of group writing.
Participants will write using prompts that help them access memories and imagination. Over four weeks of sessions, you will tell your stories, learn to recognise good writing shared by your fellow writers, and see just how your voice can move people.
Prompts given in the course can be visual, sensory, or textual. The course will create and maintain a safe space for all - participants will engage with the story that other participants have offered as fiction, and separate the "I" on the page from the writer. All feedback of writing is encouraged to be positive and affirming.
This course is suitable for both beginners and published writers. A workshop to encourage writers to create work in a supportive environment.Participants should at least be17 .
This is a four-week course, taking place on 7, 14, 21, and 28 July 2019 (Sundays).
Course Outline
Using George Ella Lyon's poem Where I'm From, participants will explore where they are from
Week Two: The Stranger's Path
Participants will look at J.B. Jackson's The Stranger's Path to examine place
Participants will learn how to write good dialogue.
Week Four: Beginning, Middle, and End
Participants will look at the narrative structure of their stories.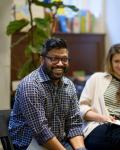 Paul Rozario-Falcone is a writer and editor based in Brooklyn, New York and Singapore. He is a licensed facilitator for the Amherst Writers and Artists method, which builds a supportive, affirming group writing practice. He was the co-founder of the Singapore Literature Festival in New York and the Second Saturdays reading series. He has led workshops at StoryFest 2018 and Textures 2019, both at The Arts House.
Registration Details
Kinokuniya Privilege Card Members
Kinokuniya Privilege card members can enjoy 10% off the workshop fee.
Please provide your membership number and workshop title to [email protected] for the discount code before online registration.
Registration is on a first-come-first-served basis and workshop fees must be paid before the workshop. If the minimum number of participants is not met for the class, the organisers will inform all participants about possible postponement and cancellation, two weeks before the workshop date.
Cancellation & Substitution
The workshop can be cancelled or postponed two weeks before the workshop date if the minimum number of participants is not met. Participants will be fully refunded for workshops cancelled by us.
Participants who are unable to attend a workshop they have registered for are to inform us of the reason two weeks before the workshop date. They will be fully refunded in the event of extenuating and mitigating circumstances (E.g. illness, bereavement, accidents) . Those who inform us up to five (5) working days before the workshop date will receive a 50% refund. Participants can also attend another course at the same value within the same year.
Upon registration, you are deemed to have read and understood the cancellation, withdrawal and substitution policy and accept the terms contained therein.