Songwriting - write one in a day!
By
17 January 2015 (Sat)
9.30am- 5.30pm
Course Fee: $70.00
Eventbrite Registration Fee: $3.00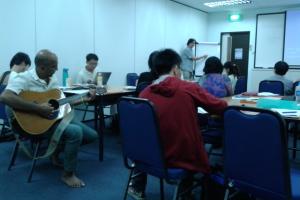 View Gallery
Synopsis
A song is everlasting! It can be sung over many generations. Come learn what a good song is, and how you can even write one in a day! Desmond Moey is a professional songwriter who will help you appreciate how a song is constructed, what constitutes a good song, and how you can either just write the music (composition), or just the lyrics (to collaborate with a composer), or a song (music and lyrics). He will introduce chords, which are harmonies that support the melody. Writing a good song is like telling a story set to music – how beautiful an art form a song is!
Aims
Song structure
- verse
- chorus
- classic songs
- music styles, chord progressions, modern music notation
Melody composition
- components
- chords that support the melody
- understand pitch and range considerations for male, female, child and adult singers
Lyric writing
- understand the role of lyrics in making a good song
- components of English lyrics
- use rhyming dictionary support
Assembling melody and lyric
- Put melody, chords and lyrics together
About the Trainer:
Registration Details
Minimum – Maximum Number of Participants: 15 – 25 pax
Registration is on a first-come-first-served basis and workshop fees must be paid before the workshop. If the minimum number of participants is not met for the class, the organisers will inform all participants about possible postponement and cancellation, two weeks before the workshop date.
Cancellation & Substitution
The workshop can be cancelled or postponed two weeks before the workshop date if the minimum number of participants is not met. Participants will be fully refunded for workshops cancelled by us.
Participants who are unable to attend a workshop they have registered for are to inform us of the reason two weeks before the workshop date. They will be fully refunded in the event of extenuating and mitigating circumstances (E.g. illness, bereavement, accidents) . Those who inform us up to five (5) working days before the workshop date will receive a 50% refund. Participants can also attend another course at the same value within the same year.
Upon registration, you are deemed to have read and understood the cancellation, withdrawal and substitution policy and accept the terms contained therein.