The World of Historical Fiction: Making History, Writing It
By
Author, novelist and short story writer Anu Kumar will take participants through the different kinds of historical fiction found within the genres of romance, adventure, memoirs and medium of apps, films and plays. Participants will also learn how to use research material in writing fiction and experience a 2 hour intensive exercise in writing historical fiction. Targeted at writers, editors, app developers and content developers, this course will allow for plenty of writing and sharing on this topic and participants will walk away with a better understanding of how and why history is a vital tool for writing fiction.
At the end of this course, you would have learned
What is Historical Fiction? And its role in our lives and writing.
Exploring different kinds of historical fiction, by looking at diverse examples
Facets and research required
History and its use in different mediums
Ways of writing historical fiction
Imagining yourselves as different characters
Historical Fiction and the Present
About the Trainer:

Anu Kumar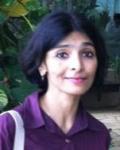 Anu Kumar is an avid writer of fiction/non-fiction for young and older readers. She currently sustains an adventure series featuring Atisa for young adults. She has written articles and reviewed books for magazines and newspapers and her short stories won awards from the Commonwealth Broadcasting Association. She is currently working on several book projects for children.
Registration Details
Registration is on a first-come-first-served basis and workshop fees must be paid before the workshop. If the minimum number of participants is not met for the class, the organisers will inform all participants about possible postponement and cancellation, two weeks before the workshop date.
Cancellation & Substitution
The workshop can be cancelled or postponed two weeks before the workshop date if the minimum number of participants is not met. Participants will be fully refunded for workshops cancelled by us.
Participants who are unable to attend a workshop they have registered for are to inform us of the reason two weeks before the workshop date. They will be fully refunded in the event of extenuating and mitigating circumstances (E.g. illness, bereavement, accidents) . Those who inform us up to five (5) working days before the workshop date will receive a 50% refund. Participants can also attend another course at the same value within the same year.
Upon registration, you are deemed to have read and understood the cancellation, withdrawal and substitution policy and accept the terms contained therein.