生动讲故事班: 如何让孩子着迷于华文故事 (Vivid Storytelling: Engaging Children with Chinese Stories)
By Wong Swee Yean, Karen Lee
27 July 2019 (Sat)
9:30am – 12:30pm
Singapore Book Council Training Room
Singapore Book Council Training Room
90 Goodman Road, Blk E #03-32
Goodman Arts Centre
Singapore 439053
MAP
Course Fee: $80.00
Eventbrite Registration Fee: $2.99
工作坊将探索如何生动而多元化地讲故事,并让儿童更进一步认识及接触华文故事。
主持人将示范如何不依赖书本,而是用互动式,有创意的方法吸引儿童对华文故事的兴趣。参与者也会学会利用道具,童谣与七巧板,为故事增添乐趣。
主持人会引导参与者通过不同的语调及声音,用生动,活泼的方式讲故事,让故事更有张力。
这门课能丰富参与者讲故事的技巧,并让儿童爱上华文故事。 家长,老师或任何对讲故事有兴趣的人都欢迎参加。
The course will engage participants in exploring the different ways of storytelling. Participants will be introduced to storytelling in Chinese using creative methods such as props, nursery rhymes and tangrams.
Participants can expect a session on how to capture children's attention using rich and expressive storytelling, as well as ways of providing an interactive and immersive experience for the children. At the end of the course, participants will be equipped with techniques and methods to engage children with Chinese stories through the medium of storytelling.
This course is conducted in Chinese, and is suitable for parents, teachers and any adults who work with children aged 4-9.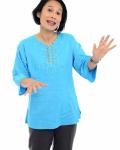 Swee Yean, an experienced storyteller and trainer, has been telling stories in schools, libraries and museums for the past 12 years. She has also trained teachers and emerging storytellers of all ages from 7 to 70. Before becoming a professional storyteller, she was a secondary school teacher. She likes to nurture the yearning for learning that she sees in all her students.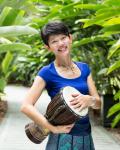 Karen is a storyteller and trainer with 20 years of teaching experience in the education field. She has been telling stories to people of all ages, from all walks of life, sharing with them hope, courage and a chance to understand the self and others. She has trained preschool teachers and volunteers who tell stories in their communities. She enjoys bringing to her audience the joy that can be gained from storytelling.
Registration Details
Registration is on a first-come-first-served basis and workshop fees must be paid before the workshop. If the minimum number of participants is not met for the class, the organisers will inform all participants about possible postponement and cancellation, two weeks before the workshop date.
Cancellation & Substitution
The workshop can be cancelled or postponed two weeks before the workshop date if the minimum number of participants is not met. Participants will be fully refunded for workshops cancelled by us.
Participants who are unable to attend a workshop they have registered for are to inform us of the reason two weeks before the workshop date. They will be fully refunded in the event of extenuating and mitigating circumstances (E.g. illness, bereavement, accidents) . Those who inform us up to five (5) working days before the workshop date will receive a 50% refund. Participants can also attend another course at the same value within the same year.
Upon registration, you are deemed to have read and understood the cancellation, withdrawal and substitution policy and accept the terms contained therein.