Writing and illustrating Bilingual Picture Books
By Lee Kow Fong
Join Lee Kow Fong (also know to his readers as Ah Guo) author and illustrator of Feifei and his Starry Night and the Bubu Series. He will guide you through the process of writing, translating, editing, generating ideas and understanding illustrations for creating bilingual (from Chinese to English) children's picture books. This workshop is ideal for writers who want to understand how to develop plot and language to create an unforgettable story for young readers aged 0 to 6. Both bilingual and monolingual writers will benefit from all aspects of the workshop. Participants need not have a background in illustration or mandarin. Participants from the workshop can submit their dummy books to the organisers for consideration for publication by NBDCS.
Course Outline
The importance of visual literacy in picture books
Understand how a child sees and finds meaning in visual images. Learn about art elements such as colours, texture, form and shape .
Relationship of text/illustration in bilingual picture books
Learn the ways the text-illustration relationship can influence understanding for readers.
Style of language in bilingual picture books
Learn about the importance of educating and entertaining through the use of appropriate vocabulary, choice of words and length of text.
Basic story-boarding
Clear the muddled thoughts in your mind concerning plot, action, setting and characters by creating a storyboard. Learn how to think more deeply about dialogue and action and where you can create the climax and tension for your story.
Creating a dummy book
Using your new found knowledge and ideas that you have developed during the two-day session , pen your story down and create a dummy book that you can take home for inspiration and further development.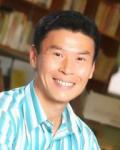 Lee Kow Fong, or Ah Guo, graduated with a BA(Hons) from the National University of Singapore and holds a Postgraduate Diploma in Translation and Interpretation from the Nanyang Technological University. He received his MA in Children's Book Illustration from Cambridge School of Art, Anglia Ruskin University, UK in 2011. Besides teaching as a full-time lecturer at the School of Humanities & Social Sciences, Ngee Ann Polytechnic, he is also actively involved in the promotion and creation of children's picture-books in Singapore.
Registration Details
Registration is on a first-come-first-served basis and workshop fees must be paid before the workshop. If the minimum number of participants is not met for the class, the organisers will inform all participants about possible postponement and cancellation, two weeks before the workshop date.
Cancellation & Substitution
The workshop can be cancelled or postponed two weeks before the workshop date if the minimum number of participants is not met. Participants will be fully refunded for workshops cancelled by us.
Participants who are unable to attend a workshop they have registered for are to inform us of the reason two weeks before the workshop date. They will be fully refunded in the event of extenuating and mitigating circumstances (E.g. illness, bereavement, accidents) . Those who inform us up to five (5) working days before the workshop date will receive a 50% refund. Participants can also attend another course at the same value within the same year.
Upon registration, you are deemed to have read and understood the cancellation, withdrawal and substitution policy and accept the terms contained therein.