Writing Contemporary Haiku and Haibun
By Dr Chris Mooney-Singh
26 May 2018 (Sat)
9:30am – 12:30pm
Singapore Book Council Training Room
90 Goodman Road, Blk E #03-32
Goodman Arts Centre
Singapore 439053
MAP
Course Fee: $40.00
Eventbrite Registration Fee: $2.99
SYNOPSIS
Although originating in medieval Japan the world's shortest literary form, the haiku has become popular across the globe.
Likewise, the haibun combining haiku and creative non-fiction, has found a dedicated following of writers in many languages.
Perhaps this is because the range of the haibun is broad and frequently includes autobiography, diary, essay, prose poem, short story and travel journal writing.
Perhaps you are new to poetry and want to learn some basics, or you are interested in short form prose. Either way, this eclectic workshop meeting at the intersection of 'Poetry St and Prose Ave' will unleash new possibilities helping poets explore narrative and show prose writers a touch of poetry's finesse.
COURSE OBJECTIVES
This workshop is designed to bring both newcomer and more experienced writer on a fascinating journey. It includes guided centering and relaxation exercises, technical knowledge of the two forms in their Japanese context, practical examples of both forms, audio and video presentations, advice on starting a haiku-haibun journal, along with ample writing time, and a final haiku celebration session.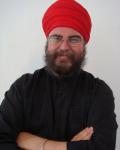 Dr Chris Mooney-Singh has authored several collections of verse, the last being The Bearded Chameleon (Black Pepper/Red Wheelbarrow Books) and has appeared in numerous poetry and fiction anthologies. He co-founded The Writers Centre, Singapore, Red Wheelbarrow and the Lit Up Festival as well as the Singapore Poetry Slam™. Chris has also been a guest at international literary festivals in Australia, Hong Kong, South Korea, USA, the Philippines, India, Malaysia, and Singapore. In 2015, he was awarded a PhD in Literary Studies and Creative Writing at Monash University, Melbourne. In the same year, his verse novel Foreign Madam and the White Yogi received a Victorian Premiers' Literary Award Commendation (Unpublished Manuscript category). Chris also teaches in the MA Creative Writing and short course in poetry at LASALLE College of the Arts.
Registration Details
Capability Development Grant
The Capability Development Grant is open to individuals and organisations who have a strong track record of involvement in the arts at a professional level, and is able to demonstrate commitment to the long-term development of the arts in Singapore.
Kinokuniya Privilege Card Members
Kinokuniya Privilege card members can enjoy 10% off the workshop fee.
Please provide your membership number and workshop title to [email protected] for the discount code before online registration.
Minimum – Maximum Number of Participants: 13 – 15 pax
Registration is on a first-come-first-served basis and workshop fees must be paid before the workshop. If the minimum number of participants is not met for the class, the organisers will inform all participants about possible postponement and cancellation, two weeks before the workshop date.
Cancellation & Substitution
The workshop can be cancelled or postponed two weeks before the workshop date if the minimum number of participants is not met. Participants will be fully refunded for workshops cancelled by us.
Participants who are unable to attend a workshop they have registered for are to inform us of the reason two weeks before the workshop date. They will be fully refunded in the event of extenuating and mitigating circumstances (E.g. illness, bereavement, accidents) . Those who inform us up to five (5) working days before the workshop date will receive a 50% refund. Participants can also attend another course at the same value within the same year.
Upon registration, you are deemed to have read and understood the cancellation, withdrawal and substitution policy and accept the terms contained therein.