Writing Styles and Techniques in Modern Poetry
By
20 February 2016 (Sat)
9.30am - 2.30pm
Course Fee: $45.00
Eventbrite Registration Fee: $2.38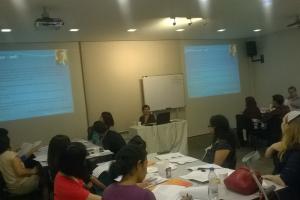 View Gallery
SYNOPSIS
This workshop will cast light on how modern poetry, contextualises the contemporary themes of war, terrorism, environmentalism and globalisation. Participants will acquire writing techniques used in modern poetry. Some of the poetry stalwarts of the time would be introduced, their art critically interpreted with an aim to understand their literary styles. Through a number of hands-on exercises and an actual session of writing, participants will be able to familiarise themselves with a range of writing styles and techniques spanning from T S Eliot who in effect started the modern movement in the 1920s to Maya Angelou who passed away as recently as in 2014. Literary techniques would include looking at the poets' choice of imagery, development of plot, use of poetic diction and stanzaic form which lend structure and contribute to the mood of the piece.
LEARNING OUTCOMES
Gain a basic understanding of the sense, structure and recurrent themes present in contemporary poetry
Where it all started – T S Eliot and The Waste Land (1922), the intellectual process of his creativity and the concept of objective correlative
Analysing an important strand of modernism, Ezra Pound and the concept of Imagism, the need to express in precise visual images without excess verbiage
An introduction to the submarine world of myth, mysticism and alchemy in Ted Hughes's poetry
Why did the caged bird sing? Looking at the presence of contemporary issues in Maya Angelou's poetry
A practical session of writing contemporary poetry
Critique and reflection on the experience
About the Trainer:
Registration Details
Kinokuniya Privilege Card Members
Kinokuniya Privilege card members can enjoy 10% off the workshop fee.
Please provide your membership number and workshop title to [email protected] for the discount code before online registration.
Minimum – Maximum Number of Participants: 15 – 25 pax
Registration is on a first-come-first-served basis and workshop fees must be paid before the workshop. If the minimum number of participants is not met for the class, the organisers will inform all participants about possible postponement and cancellation, two weeks before the workshop date.
Cancellation & Substitution
The workshop can be cancelled or postponed two weeks before the workshop date if the minimum number of participants is not met. Participants will be fully refunded for workshops cancelled by us.
Participants who are unable to attend a workshop they have registered for are to inform us of the reason two weeks before the workshop date. They will be fully refunded in the event of extenuating and mitigating circumstances (E.g. illness, bereavement, accidents) . Those who inform us up to five (5) working days before the workshop date will receive a 50% refund. Participants can also attend another course at the same value within the same year.
Upon registration, you are deemed to have read and understood the cancellation, withdrawal and substitution policy and accept the terms contained therein.