Fun with Creative Writing
By
" Through the miracle of language we can embrace and share the wisdom of our hearts"
Ideal for Primary and Secondary School teachers, this workshop will delve into creative writing strategies which can be used in classrooms. The strategies and geared towards improving students' academic achievement and encouraging their active involvement in creative writing. The exercises in this course will be interaction intensive so that participants can gain an experiential learning experience.
Course Outline
How to generate ideas?
How to use observation?
Can everyone write?
What is 'creative' writing?
Why do we need to add the fun element to 'creative' writing?
How do we add the fun element?
Expert tips for success in teaching children to have fun while writing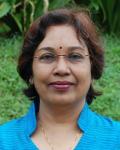 Dr Anju Aditya, Former Dean, GIIS Academic Centre is the Founder-Principal of Global Indian International School, East Coast Campus, Singapore, which has created a record by winning 3 awards at Singapore, India and international levels within a year. She has been a Quality Examiner for SPRING, Singapore, Asia Pacific Quality Organisation, Philippines and Malcolm Baldrige National Quality Programme, USA. She is now a consultant in education.
A Gold Medalist and Ph.D. in English Literature with three decades of experience in teaching and school administration, she has extensively implemented innovative teaching and learning practices in schools. She strongly advocates value education as an integral part of school education. She has authored English language books for school students. Her professional interests are school assessments, teacher training and development, curriculum design and innovation.
Registration Details
Registration is on a first-come-first-served basis and workshop fees must be paid before the workshop. If the minimum number of participants is not met for the class, the organisers will inform all participants about possible postponement and cancellation, two weeks before the workshop date.
Cancellation & Substitution
The workshop can be cancelled or postponed two weeks before the workshop date if the minimum number of participants is not met. Participants will be fully refunded for workshops cancelled by us.
Participants who are unable to attend a workshop they have registered for are to inform us of the reason two weeks before the workshop date. They will be fully refunded in the event of extenuating and mitigating circumstances (E.g. illness, bereavement, accidents) . Those who inform us up to five (5) working days before the workshop date will receive a 50% refund. Participants can also attend another course at the same value within the same year.
Upon registration, you are deemed to have read and understood the cancellation, withdrawal and substitution policy and accept the terms contained therein.