Online Copywriting and Search Engine Optimisation
By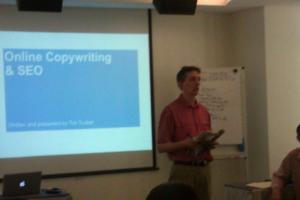 View Gallery
How to create compelling content that attracts and engages readers online
This course provides a thorough understanding of how to write good copy online and create content that gets ranked well for relevant online searches. Gain a comprehensive understanding of the unique challenges and opportunities around digital content. Learn insights into how people use the web to find information and what the copywriter must do to ensure that content is found via search engines, then read, engaged with and acted on. The workshop is suitable for those who have copywriting experience in print but are new to digital content, or have been writing online but have had no formal training in this area. Publishers, Editors, Marketers and Publicity personnel will find this course suitable. Participants will engage in practical exercises.
Aims
Learn about online content and the user experience
Learn the structure of online content including effective page titles, headlines and sub-headlines, intros and summaries
Elements of Search Engine Optimisation:
– key factors of search engine algorithms
– researching keywords and phrases
– optimising on-page content
– creating effective metadata
– off-page optimisation
– link building and online public relations
Set tone of voice and style
– Establish your brand voice and personality
– Write a copy that connects with your audience
– Write in a more human style, avoiding clichés and 'marketing speak'


–

Make your copy concise and compelling

Write a marketing and promotional copy

Learn about planning for and format for email newsletters

Write engaging blog posts and using social media to gain interaction and loyalty

Structure online news stories and online press release
About the Trainer:
Registration Details
Minimum – Maximum Number of Participants: 15 – 30 pax
Registration is on a first-come-first-served basis and workshop fees must be paid before the workshop. If the minimum number of participants is not met for the class, the organisers will inform all participants about possible postponement and cancellation, two weeks before the workshop date.
Cancellation & Substitution
The workshop can be cancelled or postponed two weeks before the workshop date if the minimum number of participants is not met. Participants will be fully refunded for workshops cancelled by us.
Participants who are unable to attend a workshop they have registered for are to inform us of the reason two weeks before the workshop date. They will be fully refunded in the event of extenuating and mitigating circumstances (E.g. illness, bereavement, accidents) . Those who inform us up to five (5) working days before the workshop date will receive a 50% refund. Participants can also attend another course at the same value within the same year.
Upon registration, you are deemed to have read and understood the cancellation, withdrawal and substitution policy and accept the terms contained therein.