Travel Writing in the Digital Age
By Shivaji Das
14 September 2019 (Sat)
9:30am – 5:30pm
Singapore Book Council Training Room
Singapore Book Council Training Room
90 Goodman Road, Blk E #03-32
Goodman Arts Centre
Singapore 439053
MAP
Course Fee: $180.00
Eventbrite Registration Fee: $5.49
Travel writing, one of the oldest genres of literature, has evolved from Richard Hakluyt's 16th-Century compendium of items for a whaling expedition to 280 character tweets by @twobadtourists. In the age of 'Instagram points' and commercialisation of traditional hospitality seen in the rise of Airbnb, what can a travel writer now write about?
The workshop will equip participants with an understanding of the following:
- Essential skills for good travel writing.
- Basics of photography and video for travel writing.
- Making the most of social media.
- Publishing in print and digital.
- Paying the bills and more in travel writing.
- Ethics of travel writing.
- Creating, sustaining and extending your brand as a travel writer.
Course Outline
Essential skills for good travel writing:
- Dialogues, structure, research, interviewing skills
Using multi-media content:
- Basics of photography and videography
Making the most of social media:
- Using social media for research
- Social media for author promotion
Tips to get published:
- Avenues for publication for print and online
- Writing a pitch
- Self-publishing basics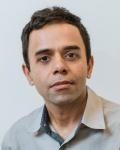 Writer, traveller, and photographer; Shivaji Das is the author of Angels by the Murky River: Travels Off the Beaten Track, Yoda Press (2017), Journeys with the caterpillar: Travelling through the islands of Flores and Sumba, Indonesia (2013), and Sacred Love: Erotic art in the temples of Nepal, Mandala Publications/ Aadarsh Books (2018).
Shivaji has also been published in magazines such as TIME, Asian Geographic, Venture Mag, Jakarta Post, Conscious Magazine, PanaJournal and Freethinker. His interviews have been featured on BBC, CNBC, Channel News Asia, Travel Radio Australia, Around the World TV, Radio Roaming, and Singapore Discovery Centre's IFD exhibition. Shivaji has conducted workshops on travel writing in several literary festivals in Singapore and the region. He is also the conceptualiser and organiser for the Migrant Poetry Contests in Singapore and Malaysia.
Registration Details
Kinokuniya Privilege Card Members
Kinokuniya Privilege card members can enjoy 10% off the workshop fee.
Please provide your membership number and workshop title to [email protected] for the discount code before online registration.
Registration is on a first-come-first-served basis and workshop fees must be paid before the workshop. If the minimum number of participants is not met for the class, the organisers will inform all participants about possible postponement and cancellation, two weeks before the workshop date.
Cancellation & Substitution
The workshop can be cancelled or postponed two weeks before the workshop date if the minimum number of participants is not met. Participants will be fully refunded for workshops cancelled by us.
Participants who are unable to attend a workshop they have registered for are to inform us of the reason two weeks before the workshop date. They will be fully refunded in the event of extenuating and mitigating circumstances (E.g. illness, bereavement, accidents) . Those who inform us up to five (5) working days before the workshop date will receive a 50% refund. Participants can also attend another course at the same value within the same year.
Upon registration, you are deemed to have read and understood the cancellation, withdrawal and substitution policy and accept the terms contained therein.