Young Author Scheme
By Catherine Khoo
4 – 8 November 2019 (Mon – Fri)
2:30pm – 5:30pm
Singapore Book Council Training Room
90 Goodman Road, Blk E #03-32
Goodman Arts Centre
Singapore 439053
MAP
Course Fee: $600.00
Eventbrite Registration Fee: $615.99
*This programme is for children aged between 10 and 12 years.*
You are never too young to write a book. Children get to learn to write their very own 3,000-word storybooks and improve descriptive and vocabulary skills. All stories are entered into the Young Author Awards, a regional writing competition for under-18s. Shortlisted and winning stories are published as e-books or in print, or in the Young Reader Club magazine, available in all NLB branches.
Course Aims:
At the end of the programme, students are intended
To further the understanding of fiction writing and its basic elements;
To develop theme and genre-based fictional narratives;
To improve vocabulary, brevity and coherence in writing fiction;
To appreciate fictional narratives and critique them based on SPACE; and,
To write a 3,000-word fictional narrative based on a chosen genre and theme.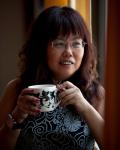 Author, educator, editor and publisher (in this order!), Catherine Khoo, has been writing and publishing since 1988.
She created the Young Author Scheme in 2003, mentoring under-18s to pen their first novella.
In 2005, she set up her own boutique publishing house, Experiences & Experiments Books, to showcase the works of her young authors as the big publishing houses deem them too childish! Since then, a selection of young authors' books are available in print, as ebooks, and collected into anthologies. http://www.catherinekhoo.sg/estore
In 2010, she launched the Young Reader Club (YRC) magazine, the host of excellent stories by 10 to 14 year olds. YRC prides itself on its reputation of presenting excellent works of art, supporting emerging writers and connecting young authors with audiences of all nationalities, across lifestyles and cultures.
In 2017, she franchised out her creative education suite, Unique English Classroom, to Malaysia, http://www.english.edu.my/ (10 centres) and Philippines http://www.uecyoungauthors.com.ph/(8 centres).
Her vision: to build the next generation of thinkers and writers while creating a library of children's literature for the region!
Registration Details
Registration is on a first-come-first-served basis and workshop fees must be paid before the workshop. If the minimum number of participants is not met for the class, the organisers will inform all participants about possible postponement and cancellation, two weeks before the workshop date.
Cancellation & Substitution
The workshop can be cancelled or postponed two weeks before the workshop date if the minimum number of participants is not met. Participants will be fully refunded for workshops cancelled by us.
Participants who are unable to attend a workshop they have registered for are to inform us of the reason two weeks before the workshop date. They will be fully refunded in the event of extenuating and mitigating circumstances (E.g. illness, bereavement, accidents) . Those who inform us up to five (5) working days before the workshop date will receive a 50% refund. Participants can also attend another course at the same value within the same year.
Upon registration, you are deemed to have read and understood the cancellation, withdrawal and substitution policy and accept the terms contained therein.