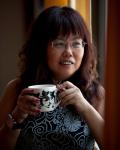 Catherine Khoo
Author, educator, editor and publisher (in this order!), Catherine Khoo, has been writing and publishing since 1988.
She created the Young Author Scheme in 2003, mentoring under-18s to pen their first novella.
In 2005, she set up her own boutique publishing house, Experiences & Experiments Books, to showcase the works of her young authors as the big publishing houses deem them too childish! Since then, a selection of young authors' books are available in print, as ebooks, and collected into anthologies. http://www.catherinekhoo.sg/estore
In 2010, she launched the Young Reader Club (YRC) magazine, the host of excellent stories by 10 to 14 year olds. YRC prides itself on its reputation of presenting excellent works of art, supporting emerging writers and connecting young authors with audiences of all nationalities, across lifestyles and cultures.
In 2017, she franchised out her creative education suite, Unique English Classroom, to Malaysia, http://www.english.edu.my/ (10 centres) and Philippines http://www.uecyoungauthors.com.ph/(8 centres).
Her vision: to build the next generation of thinkers and writers while creating a library of children's literature for the region!
Courses conducted: