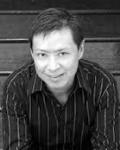 Felix Cheong
Felix Cheong, completed his Master of Philosophy in Creative Writing at the University of Queensland in 2002 and is currently an adjunct lecturer with Murdoch University, University of Newcastle, University of Western Australia, Temasek Polytechnic and LASALLE College of the Arts.
Author of nine books, including four collections of poetry, two teen detective novels, The Call from Crying House (2006), and the sequel, Woman in the Last Carriage (2007), and Vanishing Point, which was long-listed for the prestigious Frank O'Connor last year. His latest book is Singapore Siu Dai, a collection of humorous flash fiction. The sequel, Singapore Siu Dai 2, will be launched in September.
He received the National Arts Council's Young Artist of the Year for Literature Award in 2000 and was nominated for the Singapore Literature Prize in 2004.
Courses conducted: