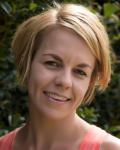 Nat Amoore (Australia)
NAT AMOORE is an Australian kid's writer and kidlit podcast host. Her debut novel Secrets Of A Schoolyard Millionaire had great success as both Dymocks and QBD's 'Kids Book Of The Month', becoming Australia's #1 bestselling debut Aussie children's fiction in 2019. It has now been sold into the UK, US, Italy, China, Estonia and Romania.
Her second book, The Power Of Positive Pranking has been shortlisted for the 2021 Readings Children's Book Prize. The Right Way To Rock is out in June 2021 with another book set for early 2022.
Nat is a host of KidLit podcast One More Page which has already had over 80K downloads and was a finalist in the 'Best Newcomer' category for the 2018 Australian Podcast Awards. 
Courses conducted: