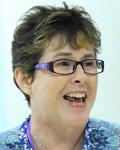 Sheila Wee
Sheila Wee has been a professional storyteller for 21 years and has been running the Introduction to Storytelling Course in various forms since 1999.
Sheila's storytelling experience is deep and wide-ranging. She has performed for thousands of preschool, primary and secondary students, curated and performed exhibit specific performances for museums, trained tourist guides and docents to use storytelling in their tours, trained teachers and lecturers to use storytelling in their teaching and corporate, military and civil service leaders in the use of storytelling as an organisational tool.
Sheila's highly practical workshops have garnered consistently high ratings from participants. Her Singapore clients include the ECDA, MOE, National Gallery, Lee Kuan Yew School of Public Policy–NUS, SMU, STB, MND, and Ezy-Link.
As well as running Storywise, her storytelling business, Sheila is a Director of the Federation of Asian Storytellers (FEAST), a Director of the Singapore based non-profit Story Connection and a former President and current Executive Committee member of the Storytelling Association (Singapore).
Courses conducted: