Good, Clean Copy – How good editing can make you a great writer
By Simon Clews
1 October 2018 (Mon)
9:30am – 5:30pm
Singapore Book Council Training Room
Singapore Book Council Training Room
90 Goodman Road, Blk E #03-32
Goodman Arts Centre
Singapore 439053
MAP
Course Fee: $250.00
Eventbrite Registration Fee: $8.24
This workshop is eligible for SkillsFuture

Synopsis:
Truman Capote famously said: "I'm all for the scissors. I believe more in the scissors than I do in the pencil." In fact, many great writers refer to the editing stage as "where the real work happens." The fine art of editing really can make good writing great and time and time again proves the old adage that less really is more. This workshop looks at distilling and crystallizing your writing to make it shorter, sharper and – most importantly – better. The workshop will include practical exercises and will teach you a number of tried and tested editing techniques. As Dr Seuss says: "So the writer who breeds more words than he needs, is making a chore for the reader who reads."
Outcomes:
Participants will explore and put into practice a variety of editing techniques and develop a new editing-focused approach to their work. If applied rigorously, this should result in noticeable improvements in the quality of participants' writing.
Participants will be expected to bring along a laptop or tablet and a 1,000-word digital sample of a piece of writing they are working on. Please note a digital device is compulsory as pen and paper alone will rule out a large part of the workshop.

Target Audience:
This workshop is suitable for writers of any experience level, from both fiction and non-fiction, who want to develop a disciplined approach to their work and gain an understanding of the importance and effectiveness of good editing.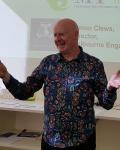 For nearly fifteen years now Simon Clews has overseen the University of Melbourne's Melbourne Engagement Lab program delivering professional development training in writing, communication and engagement to both graduate researchers and University staff. He in great demand as a writing coach and has delivered training around the world, including in Singapore, Canada, the UK, Thailand and Hong Kong. Prior to that he ran the Melbourne Writers' Festival for fourteen years, as well as a slew of other literary events, including Writers at Como, Writers at the Convent, Stories Alive and Crime & Justice. He has also written widely for newspapers and magazines and is currently exploring digital publishing. Before becoming involved in writing and publishing, his background and original training was in theatre, dance and performance and he was one of the official British representatives of acclaimed Polish theatre director Jerzy Grotowski.
www.simonclews.com
Registration Details
Kinokuniya Privilege Card Members
Kinokuniya Privilege card members can enjoy 10% off the workshop fee.
Please provide your membership number and workshop title to [email protected] for the discount code before online registration.
SkillsFuture
Some workshops are eligible for the SkillsFuture Credit.

All Singaporeans aged 25 and above can use their SkillsFuture Credit from the government to pay for a wide range of approved skills-related courses. Visit the SkillsFuture Credit website www.skillsfuture.sg/credit to choose from the courses available on the the SkillsFuture Credit course directory.
Participants can disburse partial or full course fees (excludes registration fees) in SkillsFuture Credits.
For claiming the full course fee (exclude ticketing fee) in SkillsFuture Credit, please register for the course in Eventbrite and select 'Send Invoice' at the end of the online registration page. You are required email a screenshot of the approved claim to SBC before the start of the course and to make cash payment of the Eventbrite registration fee at the workshop.

If you use partial SkillsFuture Credit to pay for the course fee, please sign in to your SkillsFuture account and after which email to [email protected] a screenshort of the approved claim and arrange for payment for the remaining course fee (including Eventbrite fee).
Registration is on a first-come-first-served basis and workshop fees must be paid before the workshop. If the minimum number of participants is not met for the class, the organisers will inform all participants about possible postponement and cancellation, two weeks before the workshop date.
Cancellation & Substitution
The workshop can be cancelled or postponed two weeks before the workshop date if the minimum number of participants is not met. Participants will be fully refunded for workshops cancelled by us.
Participants who are unable to attend a workshop they have registered for are to inform us of the reason two weeks before the workshop date. They will be fully refunded in the event of extenuating and mitigating circumstances (E.g. illness, bereavement, accidents) . Those who inform us up to five (5) working days before the workshop date will receive a 50% refund. Participants can also attend another course at the same value within the same year.
Upon registration, you are deemed to have read and understood the cancellation, withdrawal and substitution policy and accept the terms contained therein.