The New Self-Publishing – How the entrepreneurial writer can challenge publishing's status quo
By Simon Clews
2 October 2018 (Tue)
9:30am – 5:30pm
Singapore Book Council Training Room
Singapore Book Council Training Room
90 Goodman Road, Blk E #03-32
Goodman Arts Centre
Singapore 439053
MAP
Course Fee: $250.00
Eventbrite Registration Fee: $8.24
This workshop is eligible for SkillsFuture

Synopsis:
There has never been a better time to be a writer; the power balance is shifting away from the traditional gatekeepers, the commercial publishers, and back into the hands of the writers. The traditional publishing process is fast becoming known as 'legacy publishing' and the canny writer is reinventing themselves as an entrepreneur with a significant digital presence. As part of this revolution, self-publishing has been reborn and is now a force to be reckoned with. Done properly, the new self-publishing allows the writer to carefully cultivate their audience and deliver a book to them that is a hotly anticipated product, rather than just being a small cog in the machine of the very speculative process that is traditional publishing. But it's crucial to get this right. This workshop will look at taking advantage of this publishing revolution and avoiding any pitfalls that might come your way.

Outcomes:
Participants will leave with a strategic plan to develop their presence, to grow their potential readership and to take their publishing projects from idea to paperback, hardback or eBook, and from print-on-demand to digital delivery.
Participants will be expected to bring along a brief publishing proposal (responding to a pro forma to be distributed prior to the workshop) and a 500-word sample of the writing they are looking to self-publish. Please note the workshop will be targeted to a specific publishing idea so participants with general interest only will not benefit to the full extent possible.
Target Audience:
This workshop is suitable for writers of any experience level, from both fiction and non-fiction, who are new to self-publishing and who have a specific publishing project in mind.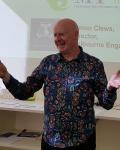 Simon Clews has been involved in all things literary for close to three decades now. For fourteen years he directed the world famous Melbourne Writers Festival and for the past decade he has headed up Melbourne University's prestigious Writing Centre for Scholars and Researchers, recently renamed the Melbourne Engagement Lab. He has organised thousands of literary events, written for newspapers and magazines and is currently wrestling with a small digital publishing start-up that seems to have a life of its own. He teaches writers and academics all around the world how to get the best out of the only tool they have in their trade ... words.
Registration Details
Kinokuniya Privilege Card Members
Kinokuniya Privilege card members can enjoy 10% off the workshop fee.
Please provide your membership number and workshop title to [email protected] for the discount code before online registration.
SkillsFuture
Some workshops are eligible for the SkillsFuture Credit.

All Singaporeans aged 25 and above can use their SkillsFuture Credit from the government to pay for a wide range of approved skills-related courses. Visit the SkillsFuture Credit website www.skillsfuture.sg/credit to choose from the courses available on the the SkillsFuture Credit course directory.
Participants can disburse partial or full course fees (excludes registration fees) in SkillsFuture Credits.
For claiming the full course fee (exclude ticketing fee) in SkillsFuture Credit, please register for the course in Eventbrite and select 'Send Invoice' at the end of the online registration page. You are required email a screenshot of the approved claim to SBC before the start of the course and to make cash payment of the Eventbrite registration fee at the workshop.

If you use partial SkillsFuture Credit to pay for the course fee, please sign in to your SkillsFuture account and after which email to [email protected] a screenshort of the approved claim and arrange for payment for the remaining course fee (including Eventbrite fee).
Registration is on a first-come-first-served basis and workshop fees must be paid before the workshop. If the minimum number of participants is not met for the class, the organisers will inform all participants about possible postponement and cancellation, two weeks before the workshop date.
Cancellation & Substitution
The workshop can be cancelled or postponed two weeks before the workshop date if the minimum number of participants is not met. Participants will be fully refunded for workshops cancelled by us.
Participants who are unable to attend a workshop they have registered for are to inform us of the reason two weeks before the workshop date. They will be fully refunded in the event of extenuating and mitigating circumstances (E.g. illness, bereavement, accidents) . Those who inform us up to five (5) working days before the workshop date will receive a 50% refund. Participants can also attend another course at the same value within the same year.
Upon registration, you are deemed to have read and understood the cancellation, withdrawal and substitution policy and accept the terms contained therein.