For writers: Good, Clean Copy - How editing can make good writing great
By Simon Clews
Synopsis
There are two phases to the writing process - writing and editing - and Simon Clews often makes the case why editing is actually more important than writing. This hands-on workshop will look at a wide variety of editing techniques and will use practical assignments to show the positive impact that a red pen can have on a writer's work. The old adage 'less is more' will come into play as participants work on their own writing and learn how to improve it immeasurably. The workshop will explore how to develop something of a split personality where you can switch off your writer's brain and switch on your editor's brain to make the most out of the two very distinct approaches that these very different roles have to your writing. It might sound odd, but it works!

Learning outcomes
Participants will develop a whole new approach to their writing and will, if the editing techniques learned are applied, learn how to make significant improvements in the quality of the writing they produce.

Target audience
This workshop is suitable for professional and emerging fiction and non-ficttion writers who use words as the tools of their trade or people outside the literary world who rely on words to make a difference or have an impact in their professional and daily lives.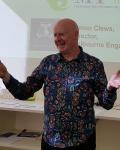 Simon Clews has been involved in all things literary for close to three decades now. For fourteen years he directed the world famous Melbourne Writers Festival and for the past decade he has headed up Melbourne University's prestigious Writing Centre for Scholars and Researchers, recently renamed the Melbourne Engagement Lab. He has organised thousands of literary events, written for newspapers and magazines and is currently wrestling with a small digital publishing start-up that seems to have a life of its own. He teaches writers and academics all around the world how to get the best out of the only tool they have in their trade ... words.
Registration Details
Kinokuniya Privilege Card Members
Kinokuniya Privilege card members can enjoy 10% off the workshop fee.
Please provide your membership number and workshop title to [email protected] for the discount code before online registration.
Capability Development Grant
The Capability Development Grant is open to individuals and organisations who have a strong track record of involvement in the arts at a professional level, and is able to demonstrate commitment to the long-term development of the arts in Singapore.
Minimum – Maximum Number of Participants: 15 – 30 pax
Registration is on a first-come-first-served basis and workshop fees must be paid before the workshop. If the minimum number of participants is not met for the class, the organisers will inform all participants about possible postponement and cancellation, two weeks before the workshop date.
Cancellation & Substitution
The workshop can be cancelled or postponed two weeks before the workshop date if the minimum number of participants is not met. Participants will be fully refunded for workshops cancelled by us.
Participants who are unable to attend a workshop they have registered for are to inform us of the reason two weeks before the workshop date. They will be fully refunded in the event of extenuating and mitigating circumstances (E.g. illness, bereavement, accidents) . Those who inform us up to five (5) working days before the workshop date will receive a 50% refund. Participants can also attend another course at the same value within the same year.
Upon registration, you are deemed to have read and understood the cancellation, withdrawal and substitution policy and accept the terms contained therein.