The truth, the whole truth and nothing but the truth…exploring the world of creative non-fiction
By Simon Clews
Synopsis
Readers love stories first and foremost. They also love ideas and facts. So when you combine the two you have one of the most popular genres in the literary world today. Creative non-fiction, also known as literary non-fiction or narrative non-fiction, allows writers to bring imagination and creativity to telling the truth. Creative non-fiction includes: Personal Essays, Memoirs, Literary Journalism and the Lyric Essay.

This course will look at:
1. Identifying a good non-fiction 'story'
2. Researching the facts behind the 'story'
3. Organising the narrative
4. Transforming real people into literary characters
5. Developing a plot
6. Visualising the scene
7. Staying true to the facts
8. Pitching the story to an agent or publisher

Learning outcomes
Participants will develop their own story/book ideas and explore the literary techniques necessary to bring them to life. They will look at how they might pitch these ideas to a commercial publisher for transformation into a trade publication. Self-publishing will also be touched upon as an alternative to commercial publishing. Some of the thematic exercises from the workshop will be brought together in a short e-anthology that will be produced after the course.

Target audience
This workshop is aimed at emerging and professional writers who are considering embarking on a creative non-fiction project or historians and professional or hobbyist genealogists looking at bringing family and community histories to life in print. The workshop is limited to 20 participants.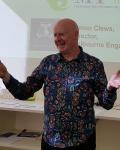 Simon Clews has been involved in all things literary for close to three decades now. For fourteen years he directed the world famous Melbourne Writers Festival and for the past decade he has headed up Melbourne University's prestigious Writing Centre for Scholars and Researchers, recently renamed the Melbourne Engagement Lab. He has organised thousands of literary events, written for newspapers and magazines and is currently wrestling with a small digital publishing start-up that seems to have a life of its own. He teaches writers and academics all around the world how to get the best out of the only tool they have in their trade ... words.
Registration Details
Kinokuniya Privilege Card Members
Kinokuniya Privilege card members can enjoy 10% off the workshop fee.
Please provide your membership number and workshop title to [email protected] for the discount code before online registration.
Capability Development Grant
The Capability Development Grant is open to individuals and organisations who have a strong track record of involvement in the arts at a professional level, and is able to demonstrate commitment to the long-term development of the arts in Singapore.
Minimum – Maximum Number of Participants: 15 – 20 pax
Registration is on a first-come-first-served basis and workshop fees must be paid before the workshop. If the minimum number of participants is not met for the class, the organisers will inform all participants about possible postponement and cancellation, two weeks before the workshop date.
Cancellation & Substitution
The workshop can be cancelled or postponed two weeks before the workshop date if the minimum number of participants is not met. Participants will be fully refunded for workshops cancelled by us.
Participants who are unable to attend a workshop they have registered for are to inform us of the reason two weeks before the workshop date. They will be fully refunded in the event of extenuating and mitigating circumstances (E.g. illness, bereavement, accidents) . Those who inform us up to five (5) working days before the workshop date will receive a 50% refund. Participants can also attend another course at the same value within the same year.
Upon registration, you are deemed to have read and understood the cancellation, withdrawal and substitution policy and accept the terms contained therein.