Walk & Write Workshops
By Simon Clews
17 – 19 November 2015 (Tue – Thu)
7.00pm - 9.00pm
Clarke Quay, Orchard Road, Chinatown

Course Fee: $15.00
Eventbrite Registration Fee: $1.63
Synopsis
Join Simon Clews - writer, academic, writing coach and the publisher of Orchard Road Stories on a unique writing experience – the walking workshop. In the same way that a seasoned painter will head off armed with an easel and paints to capture the beauty of a landscape on the spot, you will learn to write out on the streets, taking notes and capturing scenes under Simon's expert guidance. These series of three workshops can be undertaken individually or work together as a whole to create a three-day intensive tune-up for your writing skills.
Workshop One – Setting the scene
Tuesday, 17 November, 7pm to 9pm
Location: Clarke Quay ( Meeting point: Clarke Quay MRT station)
Establishing a convincing location as a backdrop for your story is crucial to capturing your reader's imagination. This workshop will look at sketching a highly visual scene using a careful choice of words and drawing on the techniques of film and television to create a believable setting against which to play out your drama.
Workshop Two – Light and shade
Wednesday, 18 November, 7pm to 9pm
Location: Orchard Road ( Meeting point: Orchard Road MRT station)
Bright lights and dark shadows can help build suspense, heighten moods and make an otherwise commonplace scene come alive and become a memorable and striking element in a story. This workshop will look at using the elements of light and shade to create unforgettable moments, to highlight dramatic tension and even to develop character.
Workshop Three – A feast for the senses
Thursday, 19 November, 7pm to 9pm
Location: China Town ( Meeting point: Chinatown MRT station)
Good writing should transport the reader to another place entirely – and to do this effectively as a writer, you need to engage all five senses - sight, smell, hearing, taste, and touch. This workshop will attune you to the sensory environment and will encourage you to bring all the senses to play to make your writing more immersive and convincing.
Requirements
Participants will need a pen and paper or laptop/tablet and a pair of sensible walking shoes. Each workshop will last two hours and will be followed by an online assessment of the work completed on the night.
Fees
$15 per workshop
$40 for all three workshops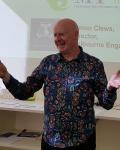 Simon Clews has been involved in all things literary for close to three decades now. For fourteen years he directed the world famous Melbourne Writers Festival and for the past decade he has headed up Melbourne University's prestigious Writing Centre for Scholars and Researchers, recently renamed the Melbourne Engagement Lab. He has organised thousands of literary events, written for newspapers and magazines and is currently wrestling with a small digital publishing start-up that seems to have a life of its own. He teaches writers and academics all around the world how to get the best out of the only tool they have in their trade ... words.
Registration Details
Minimum – Maximum Number of Participants: 10 – 15 pax
Registration is on a first-come-first-served basis and workshop fees must be paid before the workshop. If the minimum number of participants is not met for the class, the organisers will inform all participants about possible postponement and cancellation, two weeks before the workshop date.
Cancellation & Substitution
The workshop can be cancelled or postponed two weeks before the workshop date if the minimum number of participants is not met. Participants will be fully refunded for workshops cancelled by us.
Participants who are unable to attend a workshop they have registered for are to inform us of the reason two weeks before the workshop date. They will be fully refunded in the event of extenuating and mitigating circumstances (E.g. illness, bereavement, accidents) . Those who inform us up to five (5) working days before the workshop date will receive a 50% refund. Participants can also attend another course at the same value within the same year.
Upon registration, you are deemed to have read and understood the cancellation, withdrawal and substitution policy and accept the terms contained therein.