Preparing for publication
By Simon Clews
Synopsis
Career planning for writers is not something you normally hear discussed. Writers are left on their own to muddle along from day to day with little direction or guidance. But a serious strategic plan can actually make the difference between a writer with unrealized aspirations and someone who is making their name as a professional author. This workshop will help you develop your ideas and initial writing into a body of work that is ready for publication. It will include a 'health check' for your writing career and will help you develop a strategic approach to your work to compliment your creativity.
Aims
Participants will explore:
Whether they are writing what the market is looking for

Who their key markets are

How to develop a portfolio of their writing and to create their own niche

Their own writing practices

How to get the attention of potential publishers

How to write and sell work to order

What the diverse options open to authors are these days
The workshop will encourage participants to:
Think beyond the writing project in front of them
Become more organized, efficient and productive producers of creative content
See themselves as successful small businesses that are going places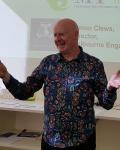 Simon Clews has been involved in all things literary for close to three decades now. For fourteen years he directed the world famous Melbourne Writers Festival and for the past decade he has headed up Melbourne University's prestigious Writing Centre for Scholars and Researchers, recently renamed the Melbourne Engagement Lab. He has organised thousands of literary events, written for newspapers and magazines and is currently wrestling with a small digital publishing start-up that seems to have a life of its own. He teaches writers and academics all around the world how to get the best out of the only tool they have in their trade ... words.
Registration Details
Minimum – Maximum Number of Participants: 10 – 30 pax
Registration is on a first-come-first-served basis and workshop fees must be paid before the workshop. If the minimum number of participants is not met for the class, the organisers will inform all participants about possible postponement and cancellation, two weeks before the workshop date.
Cancellation & Substitution
The workshop can be cancelled or postponed two weeks before the workshop date if the minimum number of participants is not met. Participants will be fully refunded for workshops cancelled by us.
Participants who are unable to attend a workshop they have registered for are to inform us of the reason two weeks before the workshop date. They will be fully refunded in the event of extenuating and mitigating circumstances (E.g. illness, bereavement, accidents) . Those who inform us up to five (5) working days before the workshop date will receive a 50% refund. Participants can also attend another course at the same value within the same year.
Upon registration, you are deemed to have read and understood the cancellation, withdrawal and substitution policy and accept the terms contained therein.