Self-publishing - From idea to hardback, paperback or ebook
By Simon Clews
Synopsis
Self publishing has come a long way over recent years. It was often disparagingly referred to as 'vanity publishing'. Self publishing is now a perfectly acceptable way for the writer to take control of their own work and to interact in a much more direct way with their readership. It is a very serious choice both in terms of creative control and economic success.
Indeed, the wheel has now turned full circle with some keen proponents of self publishing asking why you would even consider the traditional route of what is increasingly referred to as 'legacy publishing.'This course is suitable for first-time authors, would-be writers, emerging writers, students of writing, and mid-career writers.
Outline
Participants will discover:
how self-publishing is the culmination of a carefully planned strategy designed to maximise your readership and the impact of your work
what steps need to be taken before pen hits paper or finger touches keyboard
what the diverse options open to a self-published author are
The workshop will explore and even challenge:
traditional notions of publishing
accepted definitions – what, for example, constitutes a 'book' in this rapidly changing digital age?
Participants for this workshop should have a project in mind - this can be fiction or non-fiction and can be just about any length. By the end of the workshop they will be in a position to take their work to the next stage – the publication in either print or electronic form of their own work to an audience they know and in a form over which they have complete creative control. And who knows? They may even make a dollar or two along the way.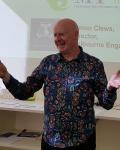 Simon Clews has been involved in all things literary for close to three decades now. For fourteen years he directed the world famous Melbourne Writers Festival and for the past decade he has headed up Melbourne University's prestigious Writing Centre for Scholars and Researchers, recently renamed the Melbourne Engagement Lab. He has organised thousands of literary events, written for newspapers and magazines and is currently wrestling with a small digital publishing start-up that seems to have a life of its own. He teaches writers and academics all around the world how to get the best out of the only tool they have in their trade ... words.
Registration Details
Minimum – Maximum Number of Participants: 15 – 30 pax
Registration is on a first-come-first-served basis and workshop fees must be paid before the workshop. If the minimum number of participants is not met for the class, the organisers will inform all participants about possible postponement and cancellation, two weeks before the workshop date.
Cancellation & Substitution
The workshop can be cancelled or postponed two weeks before the workshop date if the minimum number of participants is not met. Participants will be fully refunded for workshops cancelled by us.
Participants who are unable to attend a workshop they have registered for are to inform us of the reason two weeks before the workshop date. They will be fully refunded in the event of extenuating and mitigating circumstances (E.g. illness, bereavement, accidents) . Those who inform us up to five (5) working days before the workshop date will receive a 50% refund. Participants can also attend another course at the same value within the same year.
Upon registration, you are deemed to have read and understood the cancellation, withdrawal and substitution policy and accept the terms contained therein.