Writing for Newspapers, Magazines and Beyond - Transforming an idea into an opinion piece or feature
By Simon Clews
Synopsis
There has never been a better time to get your message across to an interested, intelligent audience. This workshop looks at both the content and business of writing for newspapers, magazines and their digital counterparts.
Course Outline
Writing for newspapers, magazines and their digital counterparts can be divided into three categories – news, opinion and features. This workshop will briefly touch upon the market for news, and then will closely examine opinion pieces and short and mid-length feature stories.
Participants will look at distilling and crystallizing their messages and converting their story ideas into short, sharp and dynamic pieces of non-fiction for the popular media. The workshop will suggest some tried and tested journalists' techniques to allow participants to really bring their stories to life.
The workshop will also look at all facets of the business, including the marketing and selling of writing to newspapers, magazines and their digital counterparts.
Participants will develop 'pitches' ready for submission to newspaper, magazine and online editors with a view to publication in mainstream media.
Participants should come prepared with ideas for two or three 'stories' that they feel would be of interest to a general print or electronic audience as well as an idea of where they think their stories might be placed.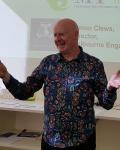 Simon Clews has been involved in all things literary for close to three decades now. For fourteen years he directed the world famous Melbourne Writers Festival and for the past decade he has headed up Melbourne University's prestigious Writing Centre for Scholars and Researchers, recently renamed the Melbourne Engagement Lab. He has organised thousands of literary events, written for newspapers and magazines and is currently wrestling with a small digital publishing start-up that seems to have a life of its own. He teaches writers and academics all around the world how to get the best out of the only tool they have in their trade ... words.
Registration Details
Minimum – Maximum Number of Participants: 15 – 30 pax
Registration is on a first-come-first-served basis and workshop fees must be paid before the workshop. If the minimum number of participants is not met for the class, the organisers will inform all participants about possible postponement and cancellation, two weeks before the workshop date.
Cancellation & Substitution
The workshop can be cancelled or postponed two weeks before the workshop date if the minimum number of participants is not met. Participants will be fully refunded for workshops cancelled by us.
Participants who are unable to attend a workshop they have registered for are to inform us of the reason two weeks before the workshop date. They will be fully refunded in the event of extenuating and mitigating circumstances (E.g. illness, bereavement, accidents) . Those who inform us up to five (5) working days before the workshop date will receive a 50% refund. Participants can also attend another course at the same value within the same year.
Upon registration, you are deemed to have read and understood the cancellation, withdrawal and substitution policy and accept the terms contained therein.