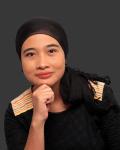 Okky Madasari
Okky Madasari is an award-winning Indonesian novelist and essayist. She has published five novels, one short story collection and three children's novels since 2010. Her novels have been translated into English, Malay, German and Arabic. In 2017, Okky was selected by the US government to represent Indonesia for the International Writing Program at the University of Iowa, US, from August to October 2017.
She regularly writes essays for Indonesian and international media and journals, and becomes a regular writer for the Jakarta Post (for samples of her article see for instance: https://www.thejakartapost.com/academia/2018/12/22/political-mothers-at-their-best-and-worst.html and https://www.thejakartapost.com/academia/2018/07/24/hijab-avoided-subject-on-childrens-day.html), Jawa Post (see: https://www.jawapos.com/opini/25/10/2019/berharap-kepada-nadiem/ and https://www.jawapos.com/opini/21/09/2019/siapa-yang-bebal/) and Detik.com (see: https://news.detik.com/kolom/d-4274454/90-tahun-dongeng-keindonesiaan)
Okky has been providing writing workshop for essay, fiction, feature and reports and other writings for business purposes for general public, universities, government offices, communities and corporates. She has been developing a unique method to allow for a quick mastery of basic writing skills in producing quality pieces. She has giving workshops to people from private companies, state-owned firms, government institutions and universities.
Courses conducted: